Adelaide Gaol Ghost Tour
Experience Adelaide's most exciting ghost tour with expert tour guides to take you through the most haunted areas of the old Adelaide Gaol in the dark of night.
A Ghost Tour Like No Other
Adelaide Gaol is purportedly one of the most haunted buildings in Australia and operated as a prison for 147 years (from 1841-1988). During that period, the old Gaol was home to over 300,000 inmates and housed some of Adelaide's most notorious serial killers, rapists, lunatics and criminal minds. It hosted 45 executions and has many bodies buried between the inner and outer walls.
With such a rich history, the old Adelaide Gaol has many stories to tell and has been proven to be inhabited by the spirits of people passed, which you may get to see for yourself on one of our chilling ghost tours.
Ghost Tour
Starts On:
December 04, 2023
8:00 PM
Approx end time:
December 04, 2023
10:00 PM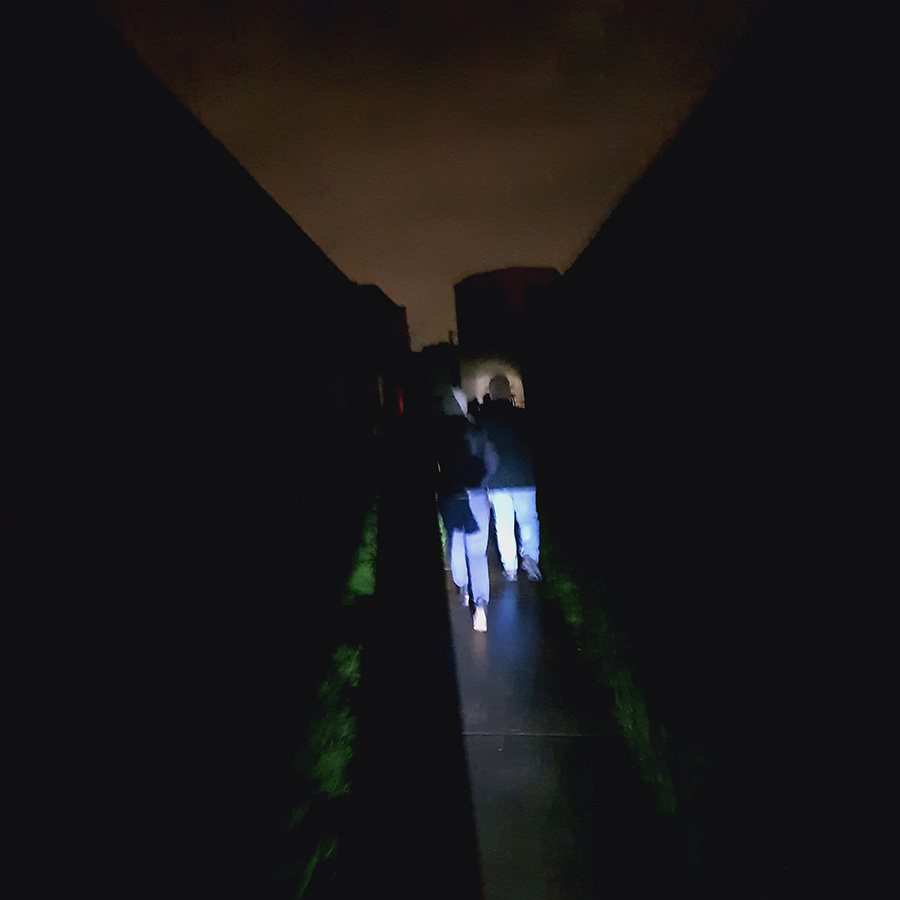 Adelaide Gaols Original & Best Ghost Tour By AGPS
(Adelaide Gaol Preservation Society Inc.)
AGPS Ghost Tour – Come If You Dare…
Come if you dare and experience the spine-chilling atmosphere of a ghost tour in one of Australia's most actively haunted buildings in the dark of night. Feel just how frightening it is walking the grounds by torchlight and hearing the gruesome history of the Gaol, its characters and its proven paranormal activity.
Ghosts, Apparitions & Unexplainable Phenomenon
As the first and original Ghost Tour operator, we've been running Ghost Tours at Adelaide Gaol for over three decades, so you're sure to get an incredible and authentic tour experience. We know the most haunted locations to visit to give you the best opportunity to encounter the ghosts, apparitions and inexplicable phenomena that take place here inside the walls of one of Adelaide's oldest buildings.
What To Expect on an AGPS Ghost Tour
Our ghost tours last approximately 2 hours and are limited to 20 people. Each ghost tour operates with a minimum of two tour guides, a lead guide and a support guide to ensure there's always someone nearby if you feel frightened or afraid.
Learn about the history of the Adelaide Gaol, its colourful characters & paranormal activity
Our expert tour guides will escort you around some of the most active sites within the Gaol. You'll learn about the dark and dastardly characters, the hangings, the burial sites and the many ghosts who continually wander inside its walls and may visit during the tour.
Plus, you'll see authentic Adelaide Gaol artifacts, including the rope used for hangings, a cat of nine tails, a flogging frame, the chains and shackles used to restrain prisoners and many original Gaol relics.
Walk the laneways & yards & explore the Goal's most haunted buildings
All our ghost tours start in the Sally Port; the only place passed through by nearly all criminal's housed at the Gaol and an active area for supernatural presence.
As we tour, you'll get to walk down the most haunted laneways in the Gaol and experience the places that make even our hardened tour guides nervous and uncomfortable. Locations where a body was passed through a window and people have had terrifying encounters with the spirit of John Balaban, Adelaide's first serial killer and other ghostly spirits.
Our ghost tours include the menacing and eerie remand cells where a dark, mysterious, ghostly entity was captured on video entering and lurking around the building, where we've also heard demonic laughter. Plus, you can explore the New Building which is the most active location. Here we've seen shadowy figures, heard doors slamming, footsteps and unexplained noises and voices.
Visit the Adelaide Gaol execution sites & graves
Our ghost tours include a visit to the Gaol's horrific execution sites and the famed Hanging Tower. Here you can see and explore the executioners' room and holding cell where the prisoners were confined whilst awaiting execution. You can stand on the trap door, right under the gallows in the tower where many prisoners took their last breath. Then we'll lead you through "Murderer's Row", the graveyard where executed prisoner's bodies are buried.
Ghost Tours hosted by Adelaide Gaol Preservation Society Inc
Adelaide Gaol Preservation Society Inc. is a not for profit team of volunteers who have looked after the maintenance, upkeep and restoration of the Adelaide Gaol since it closed its doors in 1988.
AGPS ghost tour guides are some of the most experienced and knowledgeable Adelaide Gaol custodians in South Australia.
Our team are regarded as the official Adelaide Goal historians and paranormal investigators.
All of our ghost tour guides (except our newest recruits) have personal experience of paranormal phenomena at the Gaol.
All profits from our ghost tours are used to maintain and restore the old Goal buildings and grounds, so when you book a ghost tour with us, you are actively supporting the Gaol.
We only offer authentic ghost tours and do not 'stage' or create anything to sensationalise the tours, so you'll get a genuine and authentic experience. This means that each visit will be truly unique and guided by any of the forces or entities around us.
Ghost Tour
Starts On:
December 04, 2023
8:00 PM
Approx end time:
December 04, 2023
10:00 PM
Ghost Tour Warning
AGPS ghost tours contain explicit adult information and are often frightening. Therefore they may not be suitable for persons under the age of 16 or those with a sensitive disposition. Anyone under 16 wanting to take the tour must be accompanied by an adult and pay the full adult price.
Want something a little more full-on and terrifying? Then check out our Paranormal Investigations.
Not into ghosts and ghost tours? Then check out our Murder and Mayhem Tours and our History Tours to learn more.