One of the two oldest public buildings in Adelaide.
Adelaide Gaol is claimed to be the most haunted site in SA.
"Definitely one of the things to do in Adelaide…"
Visit the Adelaide Gaol for a guided tour. The Gaol is a major part of Adelaide's heritage.
The Gaol's history extends from the time of the early settler's right through to today. As one of the two oldest public buildings in Adelaide, the Gaol has much to offer every visitor.
Treat your visit as a learning experience and find out about Adelaide's penal history or learn about the Gaol's architecture.
You can hear some of the fascinating stories of the Gaol's prisoners and their life behind bars.
The Adelaide Gaol is said to be the most haunted site in South Australia.
You may prefer a more chilling night visit to the Gaol on one of our regular Ghost Tours where you will hear about many of the Gaol's ghostly activities.
For the more adventurous you could attend one of our Paranormal Workshops and learn even more about the Gaol's paranormal activities.
We are the original Adelaide Gaol tour operator!
The Adelaide Gaol Preservation Society Inc. (AGPS) is a 'not for profit' society run by a dedicated group of volunteers who have been involved with the Adelaide Gaol since 1989. Our famous, original and authentic tours include;
Ghost Tours
Twilight Tours
Paranormal Workshops
History Tours
Come and share our passion.
Book now
Why take an AGPS Tour of the Adelaide Gaol?
We are long established as the premier tour experience at the Adelaide Gaol. We only conduct tours at the Gaol, which means our efforts are focused solely on bringing you the best possible tour for this location.
The AGPS have conducted tours at the Adelaide Gaol for more than 25 years and in that time our guides have accumulated a wealth of knowledge and experience.
Our guides are professional, knowledgeable and friendly. They also have considerable firsthand experience with the Gaol's extensive paranormal phenomena. This experience has been gained while conducting thousands of tours over many years. Our guides are all volunteers; they have a love for the Gaol and its many characteristics. The Adelaide Gaol Preservation Society conducted the original and authentic Adelaide Gaol Tours and is not affiliated with any privately run Gaol tour operator.
Our focus is to bring you a genuine, value for money tour.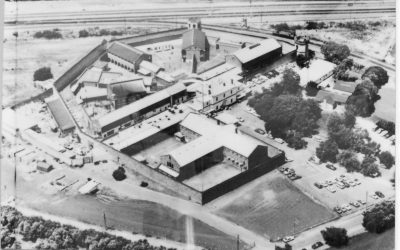 Behind Prison Walls. 1939. On Saturday morning I found myself the possessor of a pass of admission to His Majesty's Gaol Adelaide. My companion was Miss Sylvia Cowles, an English visitor who for the past 13 years has been a voluntary handicraft instructress to the...
read more