One of the two oldest public buildings in Adelaide.
Adelaide Gaol is claimed to be the most haunted site in SA.
"Definitely one of the things to do in Adelaide…"
Visit the Adelaide Gaol for a guided tour. The Gaol is a major part of Adelaide's heritage.
The Gaol's history extends from the time of the early settler's right through to today. As one of the two oldest public buildings in Adelaide, the Gaol has much to offer every visitor.
Treat your visit as a learning experience and find out about Adelaide's penal history or learn about the Gaol's architecture.
You can hear some of the fascinating stories of the Gaol's prisoners and their life behind bars.
The Adelaide Gaol is said to be the most haunted site in South Australia.
You may prefer a more chilling night visit to the Gaol on one of our regular Ghost Tours where you will hear about many of the Gaol's ghostly activities.
For the more adventurous you could attend one of our Paranormal Workshops and learn even more about the Gaol's paranormal activities.
AGPS Precautions for Covid-19
A message on behalf of the AGPS Committee and Members.
Dear Patrons,
We at the Adelaide Gaol Preservation Society Inc. (AGPS) have always put the safety and well being of our Adelaide Gaol customers and visitors as our priority.
Therefore, in light of the very concerning spread of the Corona Virus (Covid-19) and because we pride ourselves on our responsible attitude, we have decided to postpone all of our guided tours until further notice. This is effective from Monday 23rd March.
Our postponement will be on a month to month basis until we have an end to the spread of the virus.
You will all be able to cancel your tour and receive a full refund or have your tour transferred to a future date of your choosing.
Thank you for your past patronage and we look forward to seeing you on one of our tours in the future .
Please check here for any updates regarding our return to normal tours.
Stay safe.
Please note that all scheduled bookings are still visible on our website, but you will not be able to complete a new booking.
Book now
Why take an AGPS Tour of the Adelaide Gaol?
We are long established as the original and premier tour experience at the Adelaide Gaol. We only conduct tours at the Adelaide Gaol, which means our efforts are focused solely on bringing you the best possible tour for this location.
The AGPS are the original Adelaide Gaol tour operators. Our members developed and conducted the original Adelaide Gaol Tours. We have conducted History Tours at the Adelaide Gaol since 1988 and Ghost Tours since 1998. During that time our guides have accumulated a wealth of knowledge and experience about the Gaol.
Some of our longest serving members are regarded as the official Adelaide Gaol historians and paranormal investigators.
Our guides are professional, knowledgeable and friendly. They also have considerable firsthand experience with the Gaol's extensive paranormal phenomena. This experience has been gained while conducting thousands of tours over many years. Our guides are all volunteers; they have a love for the Gaol and its many characteristics.
The AGPS is not affiliated with any privately run Gaol tour operator. We are all volunteers and our focus is to bring you a genuine, value for money tour.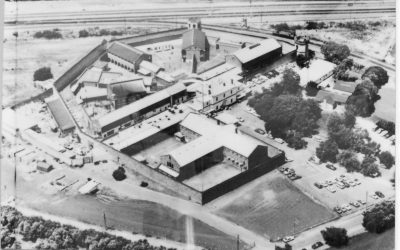 Behind Prison Walls. 1939. On Saturday morning I found myself the possessor of a pass of admission to His Majesty's Gaol Adelaide. My companion was Miss Sylvia Cowles, an English visitor who for the past 13 years has been a voluntary handicraft instructress to the...
read more