Come on an Adelaide Gaol ghost tour in one of the oldest buildings in SA.
Adelaide Gaol ghost tours - visit one of the most haunted sites in South Australia.
Adelaide Gaol - see where the executions took place.
Adelaide Gaol ghost tours - see where the bodies were buried between the walls.
GHOST TOURS, MURDER & MAYHEM TOURS, PARANORMAL INVESTIGATIONS AND HISTORY TOURS.
The Largest Choice of Adelaide Gaol Tours Available
The Adelaide Gaol Preservation Society Inc. is the only tour operator that has been around since the Gaol closed its doors in 1988 and has played an active role in the upkeep and restoration of this national treasure. With over 30 years at the Gaol, we are Adelaide's leading tour operator and proudly offer the widest range of Adelaide Gaol tours available.
Adelaide Gaol– Must See Tourist Attraction
The Adelaide Gaol is one of the oldest public buildings in Adelaide and has functioned as a prison (and place of execution) for almost 150 years. It was home to some of South Australia's most notorious criminals, serial killers and lunatics. It is said to be one of the most haunted sites in South Australia. With a gruesome and dark history, the Adelaide Gaol has plenty of stories to tell, making it one of Adelaide's must-see tourist attractions.
Tours To Suit Everyone – Guided Tours, Ghost Tours & Paranormal Investigations
We offer a complete range of history tours, ghost tours and paranormal investigations. Whether you want to learn about the Gaol's history and architecture, find out about life behind bars or get to experience some of the spine-chilling, paranormal activity at the Gaol, we're here to provide you with a fantastic and memorable tour experience.
Adelaide Gaol Ghost Tours & History Tours
What to expect on a tour of the Adelaide Gaol
Ghost Tours Adelaide Gaol
We pride ourselves on having the largest collection of original, authentic and spooky stories. These stories have been gathered over the past 34 years. You will get to hear about the hangings, the burials and the many ghosts who continually wander the Gaol's premises. You may even get to contact one of our ghostly inmates!
Adelaide Gaol Twilight Tours
We also run Twilight Tours for the more faint hearted and those under 16 years of age. These tours include a mixture of history and paranormal stories. Duration of these tours is about 90 minutes and some of the more grisly content has been removed.
Adelaide Gaol Murder & Mayhem Tour
This is a new and factual tour we have developed for your enjoyment and entertainment.
It is a history tour with a difference. It covers the darker side of the more unusual characters and grisly events that have graced the Gaol's precincts.
These are explained in detail. Executions and executioners, foul murderers and serial killers, con-men and loose women. The tragic tales of loss and grief are all explored. We explain how hangings are conducted and where the murderers are buried.
If you are looking for an exciting, darker and different take on South Australia's history, this is the tour for you.
Paranormal Investigations
For the devotee of the paranormal, we have our Paranormal Investigations. These have been developed by the Adelaide Gaol's original paranormal investigator, Jeff Fausch, who was the co founder of Paranormal Field Investigators. Jeff has developed and trained a team of investigators who concentrate on the large amount of phenomena occurring at the Gaol.
Adelaide Gaol History Tours
Guided History Tours are available either during the day or evening. We can tailor your tour to include morning or afternoon tea, a lecture on the history of the Gaol, or specific aspects of the Gaol site.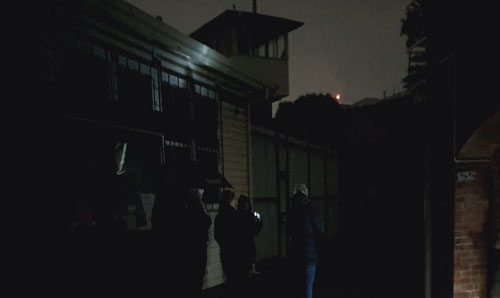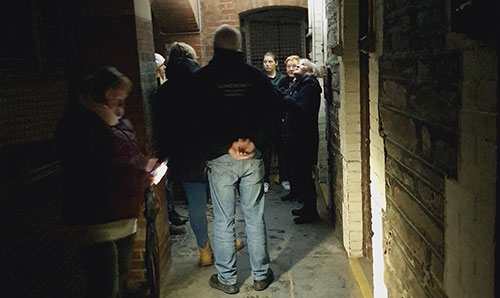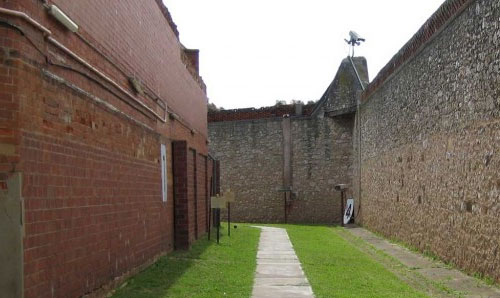 Why take an AGPS Tour of the Adelaide Gaol?
The Only Adelaide Gaol Ghost Tour That Gives Back
Adelaide Gaol Preservation Society Inc. (AGPS) is a not-for-profit organisation run entirely by volunteers. When you book an Adelaide Gaol tour with us, all the profits are used to restore and maintain the Gaol or source new and exciting artefacts.
The Original and Best Adelaide Goal Tours & Ghost Tours
Our volunteers are dedicated and passionate about the Gaol. With over 30 years of restoring the Gaol, we have in-depth knowledge of every building, so we can bring you the best and most informative history and ghost tours. The AGPS team developed and conducted the first-ever tours of the Gaol in 1988 and has detailed records to provide an authentic, rich history of the Gaol.
Unparalleled First Hand Knowledge of Adelaide Gaol
During our time at the Gaol, our team have accumulated a wealth of knowledge and experience about the Gaol. Some of our longest serving team members are regarded as the official Adelaide Gaol historians and paranormal investigators. We can recount the history of the Gaol from multiple perspectives, as some of our team members were prison guards and some ex-prisoners, so we have plenty of first-hand knowledge.